John Grant has been practicing law in the Tampa Bay area since 1968. His firm, Tampa Estate Planners specializes in estate planning, trust and probate administration, mediation and elder law. The firm promotes philanthropy, legacy and generosity.
In addition, he specializes in alternative dispute resolution and is certified by the Florida Supreme Court as a circuit court mediator and arbitrator. He regularly mediates litigation in state and federal courts.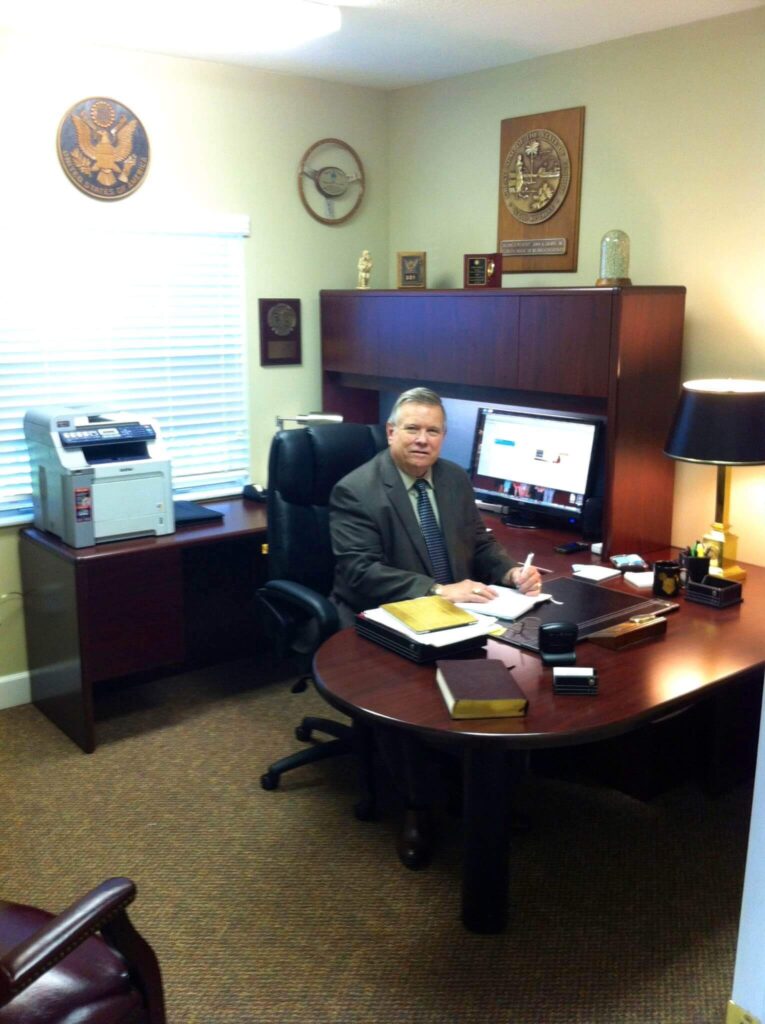 He has lectured in elder law for Florida Bar sponsored seminars. AVVO rates him as Superb with a 9.2 rating.
John is a member of the Partnership for Philanthropic Planning of Tampa Bay, The Tampa Bay Estate Planning Council and Kingdom Advisors. He is a Qualified Kingdom Advisor and has spoken at the annual national Kingdom Advisor Conference. He is also a Rotarian and active in the Carrollwood Area Bar Association.
In addition to being in private practice, he was formerly an assistant professor of business law at the University of South Florida College of Business and has also served on the faculty of the University of Tampa and Hillsborough Community College, and served as an instructor for the United States Peace Corps. He currently serves on the faculty of Taylor University teaching law and criminal justice.
He graduated from The University of South Florida with a BA degree in political science, where he was an honor student and subsequently named as a distinguished alumnus. He received an MS degree in government from Florida State University and graduated with a Juris Doctor degree from Stetson College of Law, where he was a Dana Scholar and placed number one in appellate court competition. He also has been awarded two honorary Doctor of Humane Letters degrees.
He is an active member of the American Association of Christian Counselors. He has done advanced training in Financial Issues of the Aging, Legal and medical Directives, Long Term Care and Medicare, Medigap and Medicaid through Light University.
As an assistant state attorney, he prosecuted capital cases and headed the Consumer Fraud division. He served as general counsel for the Tampa Housing Authority. He is admitted to practice before the Supreme Court of the United States.
In his public service, he was appointed to the Graduate Fellow Board in the United States Department of Education by President Ronald Reagan and was appointed by President Nixon to serve on the Small Business Administration Advisory Council.
He has been twice appointed to the Florida Commission on Ethics, where he served as Vice Chairman. He was elected to the Florida House of Representatives, where he served for seven years before his election to the Florida Senate, where he served for fourteen years and chaired the Senate Committees on Banking and Insurance and the Senate Judiciary Committee.
Governor Jeb Bush appointed him to serve as Executive Director of the Office of Statewide Public Guardianship, where he oversaw the statewide program for providing guardianship services for Florida's indigent and elderly citizens.
For his work on behalf of the elderly and disabled, he was named to the National Senior Citizen Hall of Fame and has been recognized as one of the top Legislators in America for mental health issues. He was named to Who's Who in America.
Since leaving public office, he has represented clients as an advocate to the United States Congress and the Florida Legislature. Florida Governor Charlie Crist appointed him to serve as a member of the Governor's Faith Based and Community Advisory Council.
Son John, III is also an attorney who practices in estate planning and administration and criminal defense law. He is currently attending Southeastern Theological Seminary, father of four and lives with wife Julie in Tampa.
Son James was recently elected to the Florida House of Representatives and operates a medical records application firm.
Daughter Jeanette is a homemaker and mother of five and lives with husband Jimmy in Simpsonville, South Carolina.
Long active in his church, he has been listed in Who's Who in American Religion. In his local church, Idlewild Baptist, he is an ordained deacon and Bible fellowship teacher. He served on the board of The American Bible Society and was chairman of the America's Board of the United Bible Societies and frequently spoke and taught in countries throughout Central and South America.
His book, The Issue is Life, can be found on Amazon.com and is a book about abortion apologetics. He writes a weekly electronic column, Thoughts on Life, which is distributed to readers on six continents and is a Florida political columnist regularly contributing articles on current Florida political to Florida newspapers.
In his spare time he enjoys hunting white tail deer in South Carolina, traveling and most of all spending time with his wife, Beverley and their three children and nine grandchildren.
Call us now at
(813) 787-9900
Office:
16614 North Dale Mabry Highway
Tampa, Florida 33618
Practice Areas
Wills
Elder Law
Mediation
Estate Planning
Probate and Trust Admin
Biblical Estate Planning
Proverbs 15:22
Plans fail for lack of counsel, but with many advisers they succeed.
This web site is designed for general information only. The information presented at this site should not be construed to be formal legal advice nor the formation of a lawyer/client relationship.